Gigabyte GT 730 – 2 GB – 128 Bit – gDDR3 Graphics Card review is based on Kepler architecture. Since we are ready to welcome the new generation from Nvidia and already have seen Maxwell and Pascal, I will not be discussing the Kepler architecture here. GT 730 features GK208 chip from Nvidia having a 28nm technology and 87mm² die size. The card I am looking at is GV-N730D3-2GI with 2GB DDR3 VRAM and 64-bit interface. It is clocked at 902MHz. Memory clock is 1800MHz. It supports PCIe 2.0. This card is actually a graphics accelerator.
GeForce GTX 730 Specifications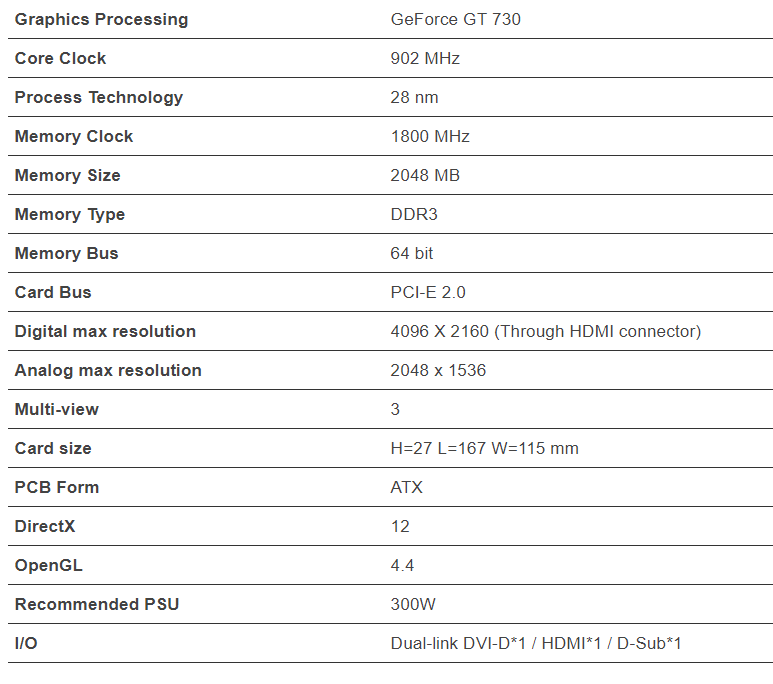 Gigabyte Packaging and Unboxing
The card comes in a standard cardboard box. On the top side, there is a Gigabyte brand name printed on the top left. 2GB DDR3 is printed in a stamped format on the left side. The card is compliant with PCIe 3.0 motherboards. Card's model no is printed on the bottom right side. 2048MB DDR3 is printed on the bottom right side.
The backside of the packaging box has GEFORCE GT 730 is printed on the top left side. Main features of the card are printed in 9 different languages. There is a large sticker pasted on the right side having EAN, UPC, serial no printed on it. The opening side of the box has Gigabyte printed on the left side and GT 730 printed on the right side.
The left and right side have identical printouts except that on the right side there is additional printing content with salient features of the card. The rear side is identical to the opening side.