Flatsome Theme | Multi-Purpose Responsive WooCommerce Theme for Lifetime, experience a new era of website creation with Flatsome, the all-inclusive WordPress theme designed to take your online presence to unprecedented heights. Flatsome seamlessly marries striking aesthetics with unmatched functionality, promising an immersive user experience that not only captivates but also converts. Flatsome's responsive design guarantees pixel-perfect rendering across all devices, ensuring your website maintains its allure, whether viewed on a desktop, tablet, or smartphone. With reduced bounce rates and prolonged user engagement, you'll reap the rewards of higher search engine rankings.
Lightning-Fast Loading Speeds for Optimal Performance
Every second counts in the digital world. Flatsome's optimized code and streamlined architecture result in lightning-fast loading times. This not only enhances user satisfaction but also pleases search engines, giving your site a competitive edge in search result rankings.
Effortless Customization with Intuitive Drag-and-Drop Builder
Leave coding worries behind as Flatsome empowers you to design your dream website with ease. Its intuitive drag-and-drop builder provides endless possibilities, enabling you to create unique layouts and visual elements without any coding expertise.
SEO-Ready Structure for Enhanced Visibility
Climb the search engine ladder effortlessly with Flatsome's SEO-friendly foundation. Its clean and organized code structure is a magnet for search engine crawlers, while its mobile-responsive design ensures your site remains accessible to all users, boosting your site's search engine ranking.
Elevate E-Commerce with Seamless WooCommerce Integration
For online entrepreneurs, Flatsome offers a seamless integration with WooCommerce, revolutionizing your e-commerce venture. Present your products with elegance, provide a hassle-free shopping experience, and watch as your conversions soar.
Unwavering Support for Your Digital Journey with Flatsome Theme
Your online journey doesn't end with the initial launch. Flatsome ensures your website's longevity and relevance with regular updates that introduce new features and optimize performance. Plus, benefit from dedicated support that stands by your side, resolving any queries or concerns.
Elevate Your Digital Presence with Flatsome Theme
Experience the future of website design and SEO optimization with Flatsome. From bloggers to businesses, Flatsome empowers every user to create a website that doesn't just impress visually but also ranks supremely on search engines, transforming digital dreams into reality.
Conclusion:
With Flatsome, you have the power to reshape your online presence, capturing the attention of users and search engines alike. Seamlessly blend design and functionality while enjoying the benefits of faster load times, responsive layouts, and expert support. Elevate your website today with Flatsome – where innovation meets optimization.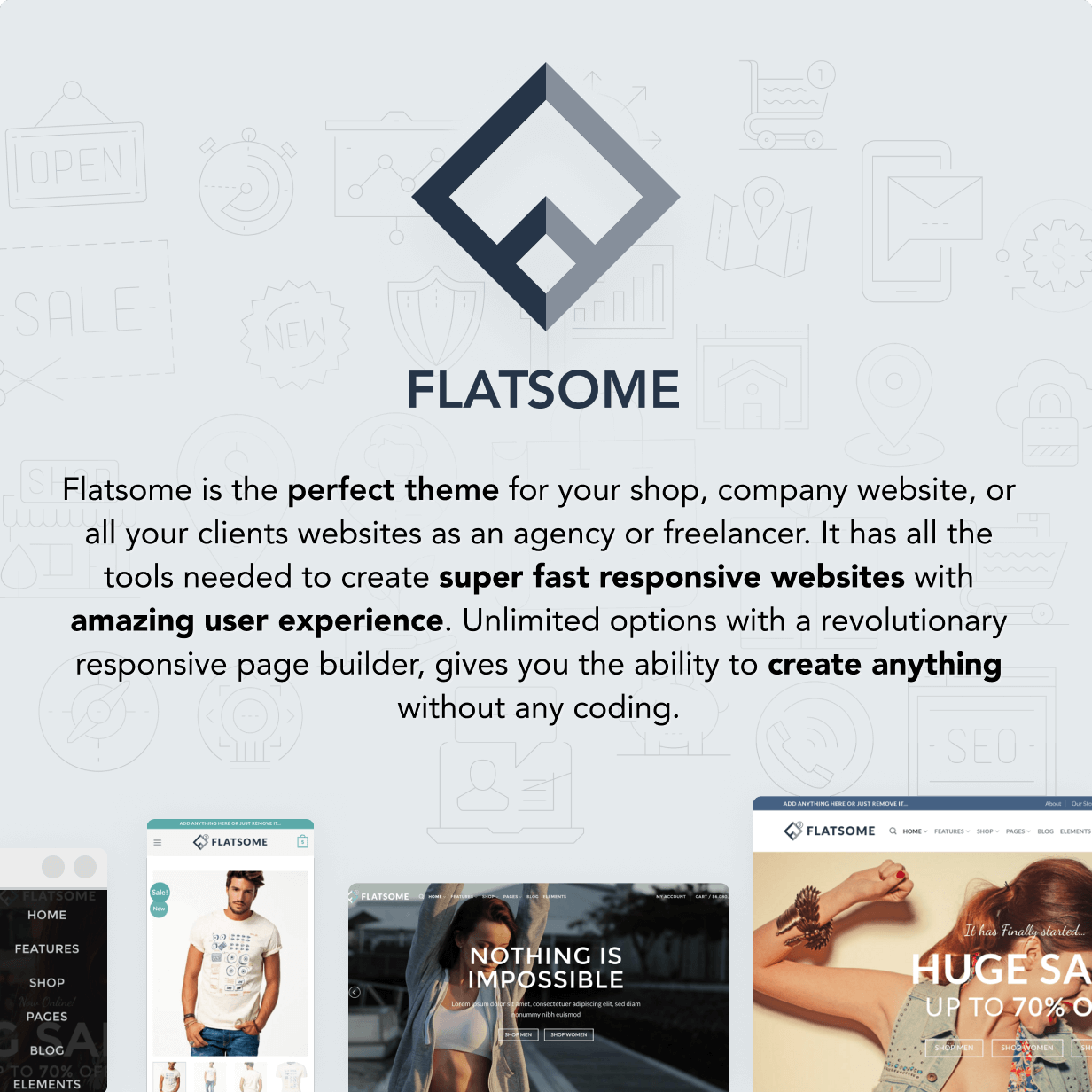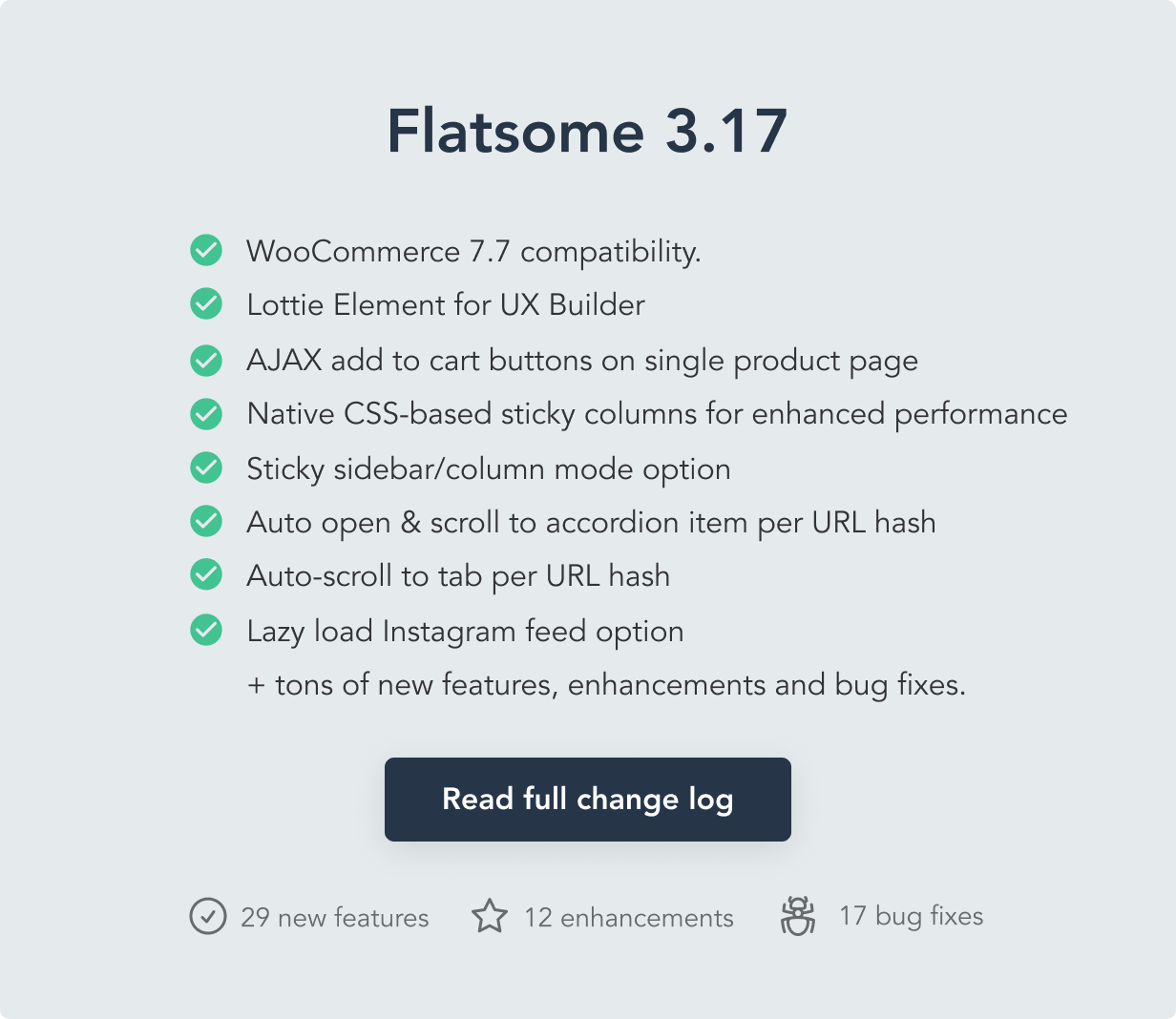 Multi-Purpose Responsive WordPress & WooCommerce Theme with incredible User Experience